Branding/Domain Names/ Email/ Webhosting
Network marketers should always create their own brand(s) for a few simple reasons.
If you tell someone about how great "the company" is, they will go to the company's website or purchase the products from a competitor. The company's brand benefits from your efforts, while you don't get much.  
Creating your own brand makes the business and products about you and your team.
Your brand makes you unique
ensuring that your brand is the place to go to find out more.
Your brand becomes an asset
you build and own independent of the business you are involved in.
Your brand gives you the authenticity
of directing people to information and resources at your domain name and corresponding from an email address @yourdomainname.​
Let's take the mystery out of "branding" and make it a simple, three step process that can cost as little as $50 a year.
Find your perfect Domain Name
Get Creative, But Not Too Creative​
Find a domain name that describes your venture and is memorable. Find something that you can tell someone over the phone, without having to spell it out. A domain name like soccer-4moms.com is going to cause a lot of confusion, because hyphens are not a natural part of language and the number 4 sounds exactly the same as "four" when you say it over the phone.
If you are any sort of business or venture, choose a domain name that is a .com. If someone else has the .com, don't think that you can make do with a .net or .biz. Non-profits and certain community groups can make do with .org.
Always ensure that you have full ownership of a domain you purchase. Domains function as a brand, your brand. With our domain services, that brand belongs to you. You can do with it as you please and transfer it elsewhere if you like.
Domain names aren't rocket science. They cost about $10 a year for .com's & .net's. If you see them offered for much less, be suspicious. Someone offers them for more, say away.
Be more Professional with a Unique Email
People will take you a lot more seriously if you aren't contacting them from "doglover1776@gmail.com" (No intentional reference if someone actually owns that email). 
Also, if you are managing a mailing list with a service like GetResponse, you're going to appear a lot more authentic if you are mailing from "reply@yourdomainname.com".
Landing Pages, or lead capture pages, can be built into your website itself, or in a marketing application, like GetResponse.
Here are the solutions we like.
Create your Landing page in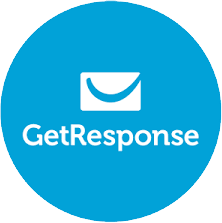 GetResponse isn't just a newsletter platform, It is a dream application for online marketing.
Not only can GetResponse's Auto Responder sequences save you time in answering basic questions to checking in with your customers, but it can also build you landing pages and help you create sales funnels to generate more sales.
Interested?
This is optional, depending on your needs.  A logo can be added to email signatures, video presentations, websites, landing pages or stationary. You can even get your own hats and tee-shirts.  
We recommend incorporating your full domain name, with the .com into the logo. That way there is no confusion about how to contact you based on the logo and, importantly, if you ever trademark your logo, the trademark will provide some legal protection for your domain name as well. 
It is possible to spend thousands of dollars on Logo design. We strongly advise against it. Take a look at the Logo Designers on Fiverr.com.  You'll be surprised to find high quality logo design for around $20-$50.